Fift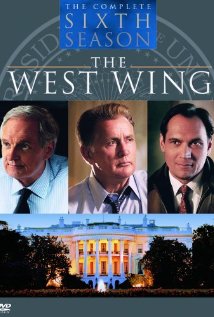 een years ago this week the West Wing premiered on NBC. For those of us that live and breathe politics it was candy. I miss it. Even today there are complex political questions that politicos answer by reference to a particular episode of West Wing.
The show was decidedly liberal and I'm conservative. That didn't matter to me. It spoke to high ideals while at the same time describing the nuts and bolts of how political power works. The writing was superb, especially the first four seasons that were penned by Aaron Sorkin. The characters were crisp and the story lines were dramatic. It was great television and not a bad course in American civics and history, too.
My favourite character was Arnold Vinick, the Republican presidential candidate from seasons 6 and 7. I agree with the character's politics; he is a moderate on social issues and a conservative on most other issues. More importantly, Vinick is portrayed as a politician that puts his principles before political expedience. I suspect a real life Arnold Vinick, a principled Republican with mainstream values and policies, would appeal to many Americans. Alan Alda brought subtlety and humour to the role, even though his personal political beliefs were as liberal as Vinick's were conservative.
You can watch the entire seven seasons of The West Wing on Netflix. Unless the CRTC starts telling Netflix we should not watch West Wing because it's too American. What would Toby Ziegler say? I suspect Arnold Vinick and even the liberals on the West Wing would have a difficult time finding a legitimate role for government regulation of online content. Our government believes Canadians should have the right to choose what we watch. Heritage Minister Shelly Glover said the government favours the status quo when it comes to Netflix.
What do you think? Were you a West Wing fan like me? Should you be allowed to choose what you watch online?  Comments are welcome.