Since I was a child I have had the thought of entering politics in the back of my mind.  Until now, for a variety of reasons about family and career, the time was never right.  Now it is.
I have really enjoyed practising law the last twenty plus years.  The intellectual challenge, the competitiveness of the court process, and the opportunity to help people have all been fascinating and stimulating. But having done those things it is time to do something more and different.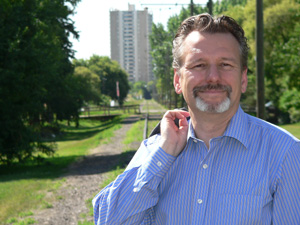 My choice of party is an easy one.  I have always been a conservative. I have a deep respect for other traditions across the spectrum of politics, but I have always come back to the core beliefs of freedom of thought, choice and enterprise that are central to conservatism.  Over the last ten years I have become more impressed with how the Conservative Party of Canada has grown and matured.  The Harper government has proven to be excellent managers of the economy despite the shocks were have all had to deal with since 2008.  In the areas of social policy our government has legislated in the mainstream of Canadian life.  In foreign policy we command respect around the world as a reasonable voice for freedom and democracy.   I am excited to have the chance to be part of our party's team in Ottawa.
My campaign will be a conversation, a discussion, and a debate.  In the next year I plan to talk to many of my neighbours in Edmonton Strathcona about their cares and concerns. The first job of a Member of Parliament is to be the voice for the constituents he or she represents.  One thing my current profession has taught is that it is noble to represent someone else's concerns, even if they are not my own concerns.
In time you will see the contrasts between my campaign and those of the New Democrats and the Liberals.  At times these contrasts will be sharp, but always they will be fair and accurate, too.   We all want a vibrant economy, a clean environment and a safe and caring society for ourselves and our families.  The real issue to be discussed and debated is the right way to achieve these things.
Feel free to reach out to my campaign.  I look forward to talking to you.
Len