I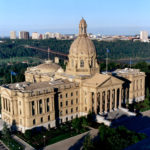 am running to for the UCP Nomination in Sherwood Park. A nomination is the process that a political party uses to choose a candidate. If I win the nomination I will be the UCP candidate for the constituency of Sherwood Park in the 2019 Alberta provincial election.
The UCP picks candidates at local nomination meetings. The nomination meeting is a mini election. To vote you must be 14 years of age and have a membership in the United Conservative Party at least 21 days prior to the nomination election date. The date for the nomination in Sherwood Park has not been set yet. It will likely be sometime this fall. Voting takes about 10 minutes and is similar to voting in other elections. A party member shows up at the polling place, their name is on list, they get a ballot, they mark it in secret and it goes in a ballot box.
Nominations are important. The success of party is often determined by the quality of candidates the party chooses. It also provides local members of a party a chance to choose a person who they believe will make an effective MLA. I encourage all conservatives in Sherwood Park to get involved by making sure they have a current UCP membership, checking out the qualifications of the nomination contestants and voting in the nomination.