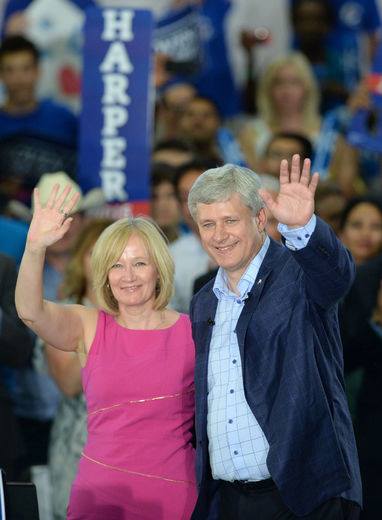 This week an estimated 1, 200 Edmonton Conservative Party of Canada supporters turned out for a big campaign rally with Prime Minister Stephen Harper and all the Conservative candidates from northern Alberta. It was a great event and the PM gave an energized, inspiring speech to the large, enthusiastic crowd. I was very pleased to see dozens of members and friends from our Edmonton Strathcona riding there. And it was great that the rally was held right in our constituency, at the huge facilities of Packers Plus, a high-tech manufacturing company that produces downhole tools for completing oil and gas wells.
The location highlighted one of the key messages in the Prime Minister's speech, which is the importance of the energy sector to jobs and economic growth here in Edmonton and across Canada. Coming just days after Toronto NDP "star" candidate Linda McQuaig was caught talking about leaving Alberta's resources "in the ground," the PM warned that her comments reflect the "not-so-hidden agenda" of the NDP, including leader Thomas Mulcair and Edmonton Strathcona candidate Linda Duncan. He pointed out that the last thing the energy sector needs, when oil is hovering near $40 a barrel and the industry is in recession, are more taxes and regulation promised by the NDP and the Liberals.
Pointing to the disastrous economic situation in Greece, Prime Minister Harper noted that its socialist government, which has been "much admired and praised by Mulcair's NDP," took over a struggling economy and made it "much, much worse."
Mulcair's NDP and Trudeau's Liberals, with their plans to "shut down resource development," are "no friends of this province," the PM said. I couldn't agree more. The stakes in this election are especially high for Alberta. An NDP or Liberal government would be a disaster for our economy.
But I went home from the rally feeling very confident that Canadians will reject the high-tax, high-spending, anti-energy, anti-Alberta agenda of the NDP and the Liberals. Prime Minister Harper and our Conservative government have a proven record of bringing our taxes down, creating jobs, balancing the budget, and leading our country successfully through global economic turmoil. Every day as this federal election campaign unfolds, it becomes more and more obvious that Mr. Harper is the best choice for prime minister, and another strong, stable, national majority Conservative government is the best choice for Canada. That's what I saw and heard, that's what I'm hearing at the doors in Edmonton Strathcona, and that's what I'm confident is going to happen on October 19th – in our great riding and all across our great country.