Biography
Len Thom has spent most of his life living in northern Alberta.  He graduated from McNally High School and obtained a Bachelor of Arts degree from the University of Alberta.
Public service has been an interest for Len since he was very young.  The first political campaign he worked on was as an eleven year old.  He rode his bicycle to campaign for Bill Yurko in Edmonton Gold Bar and helped elect the first Progressive Conservative government under Peter Lougheed.  Len recalls that "Premier Lougheed was and is my strongest political influence. He was a conservative who was dynamic, progressive and inclusive."  At age 17 the Lougheed cabinet appointed Len to the board of the Alberta Alcohol and Drug Abuse Commission, where he served for ten years.  "AADAC taught me the practical realities of how government worked and showed me the potential for public service to be a positive force in the lives of people."
For the last 25 years Len has practised law after obtaining a law degree from the University of Saskatchewan, the alma mater of Prime Minister John Diefenbaker.  His practise focuses on family law, real estate and administrative law.   Part of Len's practise has been to help establish recycling boards for tires, bottles and used oil products.  "It's not the glamorous side of environmental law, but it was good to make a contribution to a cleaner environment in a tangible way."
In 2015  Len was the Conservative Party of Canada candidate in Edmonton Strathcona.  He garnered 17,400 votes and finished as runner up to incumbent NDP MP Linda Duncan. "The campaign taught me that in politics there is no substitute for hard work by the candidate.  Over 10 months our team knocked on 14,000 doors bringing a message of low taxes, balanced budgets and economic opportunity.  That same message will resonate with Albertans even more in 2019".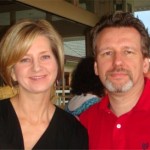 Len Thom is the former President of a PCAA Constituency Association and serves on the Board of Directors of the Edmonton Strathcona Conservative Electoral District Association as the candidate of record.  In 2017 he was President of the provincial PCAA during the Unity Referendum.  After helping found the United Conservative Party Jason Kenney appointed Len to the UCP  Board, where he served as the first Vice Chair.
Len's wife Barb and her dog Vegas are an elite level agility team who have competed for Canada at the world championships seven times.  They won a bronze medal in at the IFCS World Championships in 2014 and another bronze medal at the World Open Championships in 2017.